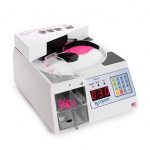 How much does the Rx-4 cost?
The Rx-4 is the most economically-priced counter available, and is backed by a One-Year Manufacturer's Warranty.
Can I try the Rx-4 before I purchase it?
Every Rx-4 comes with a 30-Day Money-Back Guarantee.  If the Rx-4 does not satisfy your needs within the first 30 days from the date of delivery, simply return it to us for a full refund.
How does the Rx-4 count?
The Rx-4 uses a rotating turntable and an automatic gate to feed pills through an optical infrared sensing array.  This allows for fast, accurate, hands-free counting.
Is the Rx-4 accurate?
Listed accuracy is 99.97%, but when used as described in the included Operator's Manual, the Rx-4 is designed to simply not miscount.
How fast does the Rx-4 count?
The Rx-4 will count round, aspirin-size tablets at a rate of approximately 500 per minute, and will count large capsules at approximately 350 per minute.  Even at its slowest speed, The Rx-4 is still faster and more accurate than hand-counting.
Does the Rx-4 require calibration?
No – the Rx-4 is not a measuring device (like a pharmacy scale) so it cannot partially work.  Therefore, it requires no calibration.
Can the Rx-4 count any pill size or shape?
The Rx-4 is capable of counting about 95% of available medications.  It can count tablets, capsules, and softgels in sizes up to 1/2″ (13mm) in diameter and 1″ (26mm) in length.  With the optional Large Pill Sensor Cover, it can count pills up to 3/4″ in diameter.  It can count any pill as small as 3mm.
How many pills can the Rx-4 hold at one time?
The Rx-4's capacity varies based on the size of the tablet or capsule being counted, but the approximate capacity of the disc surface is 300 pills.  However, the Rx-4's open design enables the user to continuously pour pills onto the turntable as they are being counted and dispensed.
Can the Rx-4 count items other than pills?
Depends – semi-rounded, symmetrically-shaped items like oblong beads and hex nuts can work quite well.  Asymmetrical items with sharp corners and/or odd shapes such as screws or flat-backed crystals do not.  Also, spherical, ball-shaped items do not behave properly on the turntable.  Feel free to contact us if you want to send in some samples to test.
Is the Rx-4 sanitary?
Yes – the Rx-4 is constructed using only FDA-approved, food grade quality plastics.  Cross-contamination is easily prevented by regular cleaning with 70% isopropyl alcohol.
Is the Rx-4 easy to clean?
Yes – the main surfaces of the Rx-4 that contact pills are easily removed and simple to clean with 70% isopropyl alcohol.
What if the Rx-4 experiences technical issues?
Rx Count Corporation has been in business since 1967 — and we pride ourselves on providing quality automated counting products and superior customer service.  If your Rx-4 experiences problems with functionality, please contact us by phone or email and we will determine whether we can solve the issues remotely or need to examine the unit at our facility.