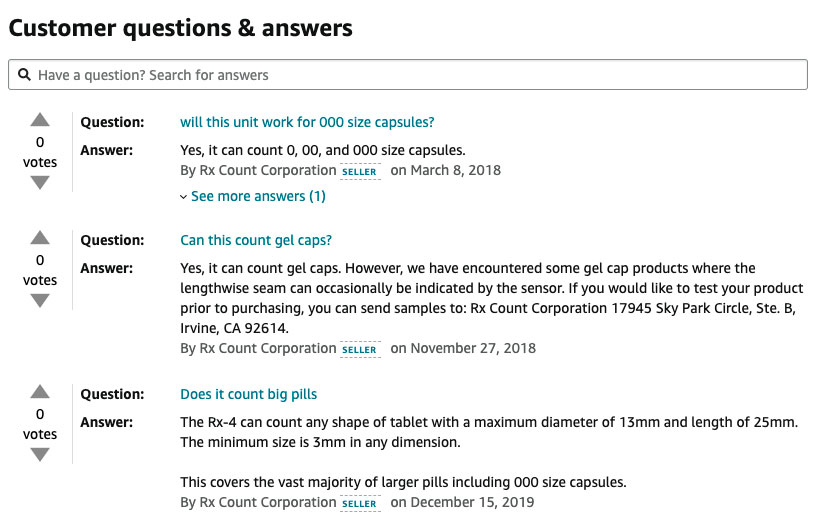 Question: Will this unit work for 000 size capsules?
Answer: Yes, it can count 0, 00, and 000 size capsules.
Question: Can this count gel caps?
Answer: Yes, it can count gel caps. However, we have encountered some gel cap products where the lengthwise seam can occasionally be indicated by the sensor. If you would like to test your product prior to purchasing, you can send samples to: Rx Count Corporation 17945 Sky Park Circle, Ste. B, Irvine, CA 92614.
Question: Can this unit be used to count small fasteners such as screws and nuts?
Answer: Regular hex nuts up to 1/2″ in diameter can usually be counted. However, screws are too irregular in shape for the sorting mechanism to adequately move and separate them, this results in jamming and miscounts.
Question: Can this machine count other things then pills? I would like to use it to count beads and rhinestones. The sizes would be 16ss and 20ss.
Answer: Thank you for your inquiry. It can count some beads but not all. Asymmetrical items like flat-backed and hot-fix crystals, also spherical or ball-shaped items do not behave properly on the rotating turntable which results in jamming and/or miscounts. If your beads are oval, oblong, faceted, or more-or-less pill-shaped, then yes, the Rx-4 can count them. However, we always recommend sending us some samples to test prior to purchasing a counter.
Question: If you change the size of the pill do you need to make an adjustment or anything, or is it all automatic?
Answer: Thank you for your inquiry! For flat pills only, there is a tab that is positioned manually to prevent pills from stacking on each other. Other than that, the Rx-4 will automatically adjust for the different shapes and sizes of tablets and capsules.
Question: Does this weigh as it counts as well?
Answer: No, the Rx-4 is not a scale. The Rx-4 utilizes an infrared array sensor that the pills pass through to be counted.
Question: This same model has been around since 2012. Has it ever been updated?
Answer: The Rx-4 has been upgraded internally since 2012, but the functionality and operation of the machine has remained the same. There are no plans for further upgrades at this time.
Question: Hi, I just saw this machine counted O-rings on YouTube. What sizes of O-rings can this machine count? Thanks.
Answer: The Rx-4 can count O-rings with a maximum OD of 13mm. Also, the wall thickness must be at least 3mm.
Question: Does this have a batch count function?
Answer: The Rx-4 can count and dispense specific quantities as many times as you need directly into vials, bottles or any other receptacle. It is the only counter-top unit that has that capability.
Question: What the voltage for this machine 110v or 220v?
Answer: The unit for sale on Amazon is a 110v model. We do offer a 220v model for international usage but you will have to contact us directly at 1-800-766-8311 or email sales@RxCount.com for pricing.
Question: Will this count chewable tablets?
Answer: Yes, but it depends on the size of the chewable. It must be 1/2″ or smaller in diameter.
Question: Does it come with warranty?
Answer: Yes, the Rx-4 comes with a One-Year Manufacturer's Warranty and a 30-Day Money-Back Guarantee.